Wednesday 17th February 2021
What Morrisons Knows That Primark Needs To Hear.
Dan Saunders offers nearly two decades of experience within marketing. Holding an in-depth understanding of different markets enables him to translate industry trends and business strategies into clear plans. Always one to have his finger on the pulse of the digital world, Dan regularly shares his thoughts on eCommerce advances and how brands can continue to thrive today. In this guest article, he shares his opinion on the changing high street, using Primark as an example of how brands need to adapt today.
What Morrisons Knows That Primark Needs To Hear.
If there's one thing COVID has taught us it's that the world can be flipped on its head in the blink of an eye. During 2020 we have seen eCommerce leap years ahead to levels which many had thought would never be possible. With this change has come a massive amount of pressure onto an already struggling high street.
With the rise of eCommerce there has been a lot of debate about what will happen to those brands that don't adapt. None epitomise this debate more than the market demand seen for Primark to start selling online.
Primark's CEO however has frequently refuted the need for their brand to sell online, even going as far as to call those who question the brand's relativity in the rise of eCommerce "naive".  But this raises a bigger question - why not sell online?
There is clearly a demand and those who have adapted have done well. Those who have not (BHS, Woolworths, Toys R Us, Staples and Phones4U to name but a few) have sadly gone the way of the VHS.
In this article, I'm taking the example of Primark to highlight the pros and cons of taking your brand from high street to eCommerce, removing the noise from the decision.
Why I think Primark should sell online.
First and foremost, money! During lockdown, Primark has so far lost around £1bn in revenue while still facing the cost of their high street rents. With the majority of their staff on furlough, stock sat in stores depreciating in value as seasons come and go, and yet still paying rent and business rates on their stores, it would make sense to redeploy staff and treat their stores as warehouses to start the tricky eCommerce logistics process.
Secondly brand loyalty - people want them online. As you can see from the tweet below and thousands of others like them, there is significant demand. Online sales are through the roof as a result of the pandemic and right now, Primark are missing out.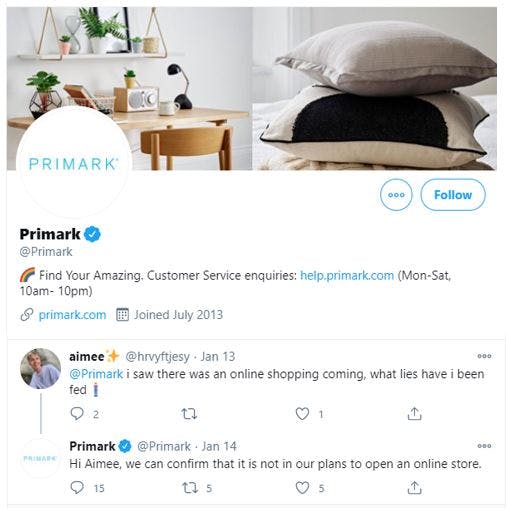 They have the supply and they clearly have the demand. Primark are not unconscious to the modern retail world; they have several active social media accounts across major platforms and can see consumer habits have changed. In many ways, they have adapted. Just not in the way that counts.
Their once loyal customers are shopping online, buying from fast fashion competitors such as Pretty Little Thing, Misguided and Boohoo who will continue to supply those customers as they begin to think, "Why did I shop at Primark to begin with?!". A big thing that may have stopped Primark from moving online could be that many have commented, "If Primark went online, it wouldn't be Primark." In response to these beliefs, here's what eCommerce consultant, Luke Carthy had to say on the matter:
"To use a prime example, Greggs. Their prices will increase if you order online via JustEat. Although prices have increased, guess what? It's still Greggs. People will and have paid more for extra convenience. This is literally the whole pricing model for your local corner shop. Higher prices and greater convenience.
Giant warehouses for online stock? Who said anything about separate warehousing for online and the high street? Online fulfilment and distribution for store stock can be managed in the same facilities or this can be outsourced via 3PL to get the initial proof of concept off the ground. High return rates exist across many apparel online retailers? Build it in to the pricing of each item sold.
In order for Primark to sell online it has to cease being Primark? Remember when Ferrari said they'd never make an SUV? If Bentley still had their traditionalist beliefs, they'd have died years ago. Yes, people still want gorgeous wood trim and the finest leather, but they also now want Apple CarPlay too. The brand must adapt, follow its customer and ego must remain out of these key decisions."
Brands that have not adapted to the change in consumer habits have died. With the ever-tightening squeeze on disposable income, footfall and spending power have also steadily decreased and with this, so has the high street. Brands such as Boohoo, Misguided and ASOS have all done well but Primark doesn't need to try and be like those brands, they can still be themselves and do great because they have the tools to do it (resource, timing and opportunity).
Morrisons online pivot is a stunning example of how the market has and will change. By using the benefits of Amazon and Deliveroo, the supermarket chain has grown online by 190 percent! They even managed to open three new stores during lockdown. The growth of your online platform doesn't have to be detrimental to your brick-and-mortar stores. The way the high street will survive is if both online and brick-and-mortar work as one symbiotic entity.
While Primark has lost around £1bn during lockdown, COVID has added an estimated £5.3bn to eCommerce brands in the UK with Amazon UK netting around £2bn of that. These figures may be skewed by COVID now, but after COVID and the initial post lockdown high street boom, what will stop it from continuing to rise?  
What's stopping Primark from selling online?
Logistics and high return rates.
It's no secret that fast fashion has the highest return rate of any product, both online and in store. Online return rates are predicted to reach £5.6bn by 2023 so it's understandable that Primark would view this as a stumbling block.
If there's one thing COVID and Brexit have taught me about eCommerce, it's that in the grand scheme of things, selling your product is easy. It's what comes before and after that's hard. Storing, importing, shipping, delivery and logistics are all too often overlooked.
I once turned down a job where the MD said, "This time next year, we want a 4,000% increase YOY". I asked them what they had set up within their logistics to make this happen. Turns out, not only did they not have enough products, people, investment, storage or the capability to do this, but they currently couldn't fulfil the orders they already had. Their plan was to get the orders now and worry about the rest later.
Basket size.
Basket size would also add to Primark's worries. The average fast fashion shopper buys 2.8 items of about £22 and very rarely spends more that £84 at once. To start a fast fashion eCommerce site would be extremely difficult without a logistics base and when Primark met to review this, I imagine this was a sticking point.
What they did not have at the time was multi-channel fulfilment from Amazon. Amazon has the largest logistics platform of any brand in the world, so it makes sense they've moved into sharing that ability with other eCommerce providers, without the need to sell on their platform.
A ready-made next day delivery system, huge storage facilities nationwide and Primark upping their prices and adding a minimum buy order would help solve some of these issues.
Site build.
When Primark initially reviewed selling online, a major platform option would have been Magento, where a site build could easily be £500k-£1m with a staggering license fee dependant on their expected turnover.
While these figures are made with huge assumptions and caveats, with rival Boohoo turning over of £434.57M last year, these numbers are extremely unfavourable.
But Magento isn't the only option. As a Shopify Plus agency, Statement's MD, Dan Conboy, agreed that "Solutions like Shopify Plus provides the option for enterprise brands to achieve scalable eCommerce results in a much more cost-effective way than was previously possible with legacy platforms". Given the previous logistics cost and the fact Amazon's logistics can be integrated into a Shopify store makes this proposition much more achievable.
Alternatively, Primark already sell a few products including gift cards through Amazon so why not set up an Amazon store and sell exclusively on there? While Amazon take a percentage, some income is still better than none. There are over 2,191,220 searches a month for Primark on Google and 33,380 on Amazon. If you take nothing else from reading this article, think of those numbers alone.
Final thoughts.
Primark's continuing insistence to not launch an eCommerce offering despite the £1.1 billion hit could be 'the start of the end' for this beloved brand.
It would be wrong to believe that post COVID - who knows when or what that will really look like - that things will simply go back to normal. Yes, some customers will go back to in store shopping and we will likely see an initial boom in bricks-and-mortar buying with people are desperate to get out and about again. But how long will that last?
Online shopping is evolving every day making the high street in its current guise less and less relevant. How long before those 'loyal' customers decide it's easier and cheaper for them to buy online? In the long run that's what it will come down to – what is easiest for the consumer.
We all love a good Primark find and it can't be assumed that everything will go back to normal. Their loyal customers will have gone elsewhere and to survive the dying high street, Primark need to adapt before it's too late.
If you want to discuss the changing high street further and how your brand can adapt, our team of eCommerce experts are always happy to help. Contact us today to chat about your website needs or get in touch with Dan Saunders direct on dan.saunders@ingenuitydigital.co.uk.
---
Insights
COVID-19: How to unlock
new opportunities
Success Story
How we helped NEOM to replatform from Magento 2 & double sales in 9 months