Preparing For Peak Trading with COVID-19
How do you plan for eCommerce peak trading in the middle of a global pandemic?
This is the question that eCommerce businesses are beginning to consider as preparations begin to ramp up for the busiest time on the eCommerce calendar once again.
Many retailers saw sales hit or even exceed Black Friday levels during lockdown. So with the immediate future still uncertain, how can you begin to predict and plan for what could turn out to be an even busier holiday period?
From meeting demand, to catering to a whole new kind of shopper, here's everything you need to know to prepare for peak trading 2020.
Focus on the gifting journey.
Whether some form of lockdown returns to the UK this winter or not, gifting will undoubtedly need to be a central component of any successful peak strategy in 2020.
If customers are in a position where they need to ship their orders straight to the recipient, a lack of gift packaging, messaging, gifting options or even no option for brand free packaging could be an instant turnoff.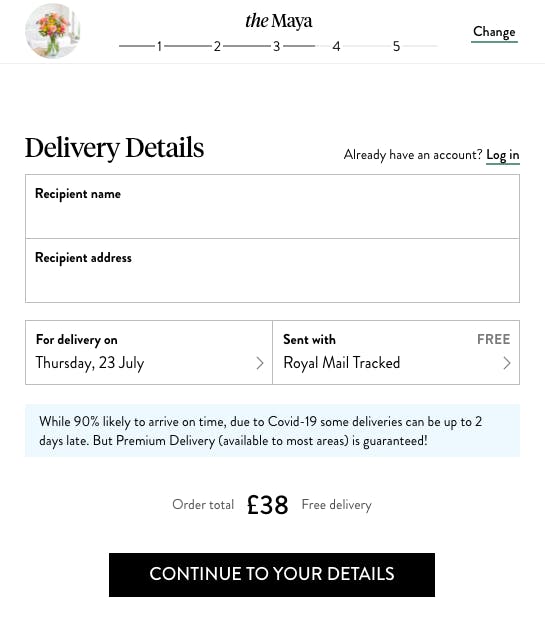 Flower delivery service Bloom and Wild offers comprehensive gifting options that are clear to understand and make the visitor aware of any potential delay.
Online shoppers unable to travel to see loved ones will be searching for unique, personalised products and delivery experiences. If you can't meet these heightened expectations, they may choose to look elsewhere.

Prepare to meet demand.
Perhaps the most difficult aspect to plan for this year is the level of demand. With varying levels of lockdown in place and economic downturn looming large, how can you plan effectively for peak demand?
The key to success in 2020 will be preparing for every eventuality and being capable of adapting to the unexpected. Whether this year gives us the busiest peak period for eCommerce yet or not, the situation is likely to change quickly as restrictions are implemented and relaxed.
Focus on the durability of your supply and delivery systems. They need to be able to scale to meet demand as and when it arises. Furthermore, with local lockdowns a likely prospect, your approach may even need to flex at a local level, with different parts of the country displaying very different needs, shopping behaviours and legal restrictions.
Adapt for international traffic.
Not everything will buck the trend this year. International shopping continues to be a growth area for eCommerce retailers, and this will likely carry on whatever the situation.
Offer localised experiences for international visitors including local currency, language and shipping options. You should be identifying well in advance where the majority of international demand lies and focus on creating experiences for these visitors that match the quality of your UK store.
Be flexible with delivery.
Delivery networks were under huge strain throughout the initial UK lockdown, and this is likely to repeat itself come peak season, especially as further lockdowns could place mounting pressure on couriers.
All of this makes clearly communicating your delivery options and any delays to visitors even more important. If shoppers aren't absolutely sure their chosen gift will arrive on time, they'll likely browse the competition.
Not only that but, as alluded to earlier, many shoppers will likely want flexibility when it comes to where and how they ship their order. Can you offer the option to split an order into multiple locations? Can you send orders in plain packaging to avoid giving away the surprise?
Clear, flexible options that give your customers confidence and exceed their expectations will not only help create a successful peak season, but grow your long-term customer base as well.
Don't forget your environmental responsibilities.
Far from abandoning ideals in favour of necessity, research suggests the pandemic has actually made consumers more conscious of environmental practices.
It's important not to forget recent trends towards sustainability and environmentally conscious shopping. Whether it's something as simple as using recycled packaging, or a wider sustainability mission, visitors will reward you for paying attention to their values.
Many consumers have used the lockdown as an opportunity to rethink their shopping habits and only 37 percent of shoppers are currently satisfied with the level of information online retailers provide them on sustainable practices.
Build events & experiences.
Right now, access to experience led, brick-and-mortar retail is severely limited. In an attempt to replicate this, eCommerce retailers are becoming more experimental with how they engage and interact with customers.
'Live Commerce', for example, is an experiential eCommerce trend that hadn't really made an impact outside of China until COVID-19 hit. With similarities to traditional shopping channels, retailers including Nordstrom and Amazon are beginning to enter the live streaming space to offer product advice, experiences and interact with customers.
Access to live streaming is abundant across social platforms, with Facebook even including live shopping features in the recently announced 'Shops' toolset for Facebook and Instagram. Google has also just announced its own social and video eCommerce platform Shoploop.
This is a fast developing trend and one you may want to consider using during this peak season in order to retain close customer relationships when face-to-face contact just isn't what it usually is.
Adapt for novice shoppers.
Another important trend we saw in the initial lockdown period was an increase in inexperienced and first time eCommerce users, and this is likely to continue into the peak season.
Consumers who previously had no reason or desire to shop online suddenly had no other option, and catering to these eCommerce novices requires something of a back to basics approach.
Be sure not to overlook key reassurance factors such as security, payment and delivery. Shoppers lacking experience and confidence will be turned away very easily and won't necessarily take the basics for granted like a more experienced online shopper may.
Provide clear and easy to locate information on your delivery processes and accepted payment methods, as well as eliminating any bugs or system issues that could deter first time shoppers and damage trust.
Just like the rest of 2020, this year's peak trading season will be like no other. With a national and international landscape that is changing by the day, preparing for the holiday season can be a daunting task at the best of times.
But the peak period also provides a unique opportunity for eCommerce retailers to craft surprising, engaging and delightful experiences that both draw in first time visitors and foster brand loyalty for years to come. Plan carefully, be flexible, experiment with new approaches and make 2020 your best peak season yet.
Our team of eCommerce and retail specialists are well versed at helping brands respond to landscape changes and remain flexible and open to opportunities. Get in touch with the Statement team if you want to chat more.
---
Insights
COVID-19: How to unlock
new opportunities
Success Story
How we helped NEOM to replatform from Magento 2 & double sales in 9 months